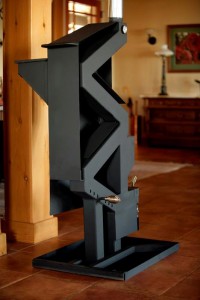 The Wiseway pellet stove is one of the most economical ways to heat your space. Inexpensive pellet fuel, no electricity and virtually maintenance free. Wood pellets are fed by gravity and the stove has no moving parts, meaning there is nothing to fail or replace. The stove does not require a blower or auger like conventional pellet stoves, making its operation noise free.
This stove is the first and only EPA certified and UL listed Non Electric Pellet Stove on the market today. Wiseway Pellet Stove accomplishes an overall efficiency rating of 75%.  Impressive is its ability to heat from 800 to 2000 square feet of living space. A 40lb bag of pellets will last up to 31 hours on low or 12 hours on high.
Gary Wisener invented the stove in 1999 and with partner Matt Aquirre, they build each stove by hand in their Medford, Oregon shop.
GW-1949 Wiseway Stove Specifications
Front Width 24 inches
Height 52 inches
Depth 15 inches
Hopper Capacity 40 pounds
57,928 BTUs per hour
Heat Capacity 800 to 2,000 square feet
EPA and UL Certified
A bolt on heat exchanger is available for the Wiseway pellet stove that lets the stove heat water. This option allows for heating of domestic hot water, aquaponics and hot tubs. This stove won't let you down in the next storm or emergency when you need a heat source you can rely on.
Wiseway Pellet Stoves are $1,850 delivered in the Valdez and Copper Basin regions, priced at a fraction of the cost of other comparable alternative energy and heat sources